"Custom Vests: Your Signature Style, Your Way.
The Perfect Fit – Confidence Boosted!
Get ready to explore a world of heritage clothing like never before with custom vests in waxed canvas denim! These versatile heritage pieces are here to empower your unique style.Custom vests in waxed canvas denim give you the creative control you've always wanted. From choosing the color to deciding on pockets, the details are in your hands. Craft a vest that not only fits perfectly but also screams YOUR unique heritage style!
Custom vests ensure you start with a perfect fit, thanks to precise measurements by our skilled team. Walk with confidence, knowing your vest enhances your silhouette for all your heritage adventures.
Quality Craftsmanship You'll Be Proud Of
Invest in quality and durability with premium canvas denim and expert craftsmanship. Your personalized vest will meet the highest standards, a masterpiece you'll wear with pride.
Custom vests in waxed canvas denim are not only stylish but incredibly versatile. They conquer a variety of outdoor heritage activities while exuding timeless elegance. Whether you're going outdoorsy with a flannel shirt and boots or urban with a tee and jeans, your customized heritage vest is ready for action!
A Timeless Heritage Investment – Longevity Guaranteed!
Custom vests in waxed canvas denim are timeless heritage investments that stand the test of time. They'll become cherished heritage pieces, accompanying you on countless adventures.
In conclusion, custom vests in waxed canvas denim are your ticket to heritage style. Express your individuality with a perfect fit, quality materials, and unmatched craftsmanship. Embrace the extraordinary in heritage adventures, your way!
How to Measure A Custom Vest
Our custom vests offer six unique styles, blending timeless design with modern sensibility. Inspired by the early 20th century, we've tailored them for a perfect fit, making subtle yet crucial adjustments based on customer feedback. Our denim vest collection includes six distinctive styles, all built on the same foundational fit guide. Whether you prefer a classic or contemporary look, our vests have you covered. Find your perfect custom vest today.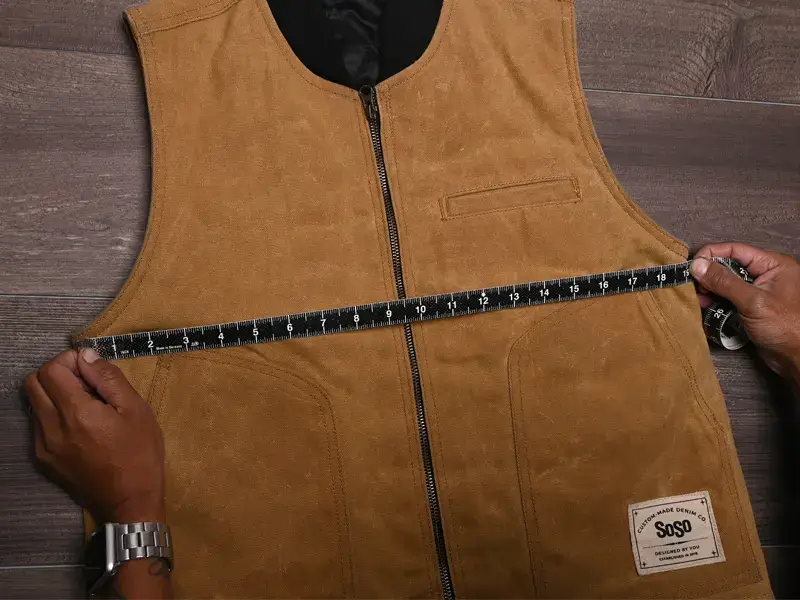 Measurements in Centimetres
Size
XS
S
M
L
XL
XXL
3XL
Shoulders
36
36
37
38
38.5
40
41
Chest
52
55
57
60
63
66
69
Arm Pit
27
29
30
32
34
36
39
Front Length
58
61
63
66
69
73
77
Back Length
61
64
66
69
72
76
80
Hem
50
51
52
53
54
55.5
57
Measurements in Inches
Size
XS
S
M
L
XL
XXL
3XL
Shoulders
14.2"
14.2"
14.5"
15"
15.2"
15.7"
16.1"
Chest
20.5"
21.6"
22.4"
23.6"
24.8"
26"
27.1"
Arm Pit
10.6"
11.4"
11.8"
12.6"
13.4"
14.2"
15.3"
Front Length
22.8"
24"
24.8"
26"
27.1"
28.7"
30.3"
Back Length
24"
25.2"
26"
27.1"
28.3"
29.9"
31.5"
Hem
19.7"
20"
20.5"
20.9"
21.2"
21.8"
22.4"