What's In a Number? Picking the Perfect Denim Weight
One of the first things that people new to the scene notice about selvedge denim is the fact that it's measured in ounces. What does this number mean, and why is it important? In this article, we'll help you understand the what and why of denim weight, and we'll help you pick a denim weight that's a good fit for your needs and preferences.

Let's start with the most obvious question: What does this weight refer to?

Denim weight refers to the weight of the fabric, not the finished product. This weight is measured in ounces per square yard. If you're used to the metric system, these units of measurement might not mean much. A square yard is a little smaller than a square metre, and an ounce is equivalent to a little more than 28 grams.

This means that a 14oz denim weighs about 475 grams (a little less than half a kilo) per square metre. Our 33oz denim tips the scale at well over a kilo per square metre.
Most mass-market denim is in the range of 9-11oz, so moving into selvedge denim is almost always a step up in terms of weight. This leads us to our next question: Is heavier denim better?
Heavier denim costs more to produce (and to buy), but this doesn't necessarily make it better.
It all comes down to why you wear jeans and what kind of result you want to achieve. If you want denim that stretches like yoga pants or feels like silk against your skin, heavy denims will be a move in the wrong direction. If, however, you want rugged denim that will fade beautifully and remain at the core of your wardrobe for years, heavier denim will absolutely be better.
This brings us to our final question: What denim weight is right for me? We've broken down our denim weights into five categories. If you've never experimented with heavier-weight denims, read the descriptions below before you take the plunge.
Lightweights: 10-14oz

Denims in this weight range will be the best choice for those who want to walk an easy and familiar path into the world of well-made selvedge. If you're trying to recreate the feeling of an old, beat-up pair of American denim from the 50s or 60s, this will be the ideal weight range.
The truly classic denims are all in this weight range. For example, the Cone Mills White Oak selvedge that helped turn Levi's into a household name topped out at 14.5oz. When faded, the denim becomes as thin as paper and as soft as melted butter. It won't produce thick-lined contrast fades, but it will produce beautiful, all-over vintage fades like the ones below.
**14oz Levi's 501 Faded by Hung Le Ngoc in Year Two of the Indigo Invitational**
If you have a moderately active lifestyle, you'll soar through the break-in period in a week or two. You can expect that lightweight denim will need repairs after 250-300 wears (perhaps earlier if you work or play hard). After a few hundred wears, the seat, crotch, and knees will be tissue thin, so you might have to be careful when sliding into them in the morning.
Middleweights: 15-18oz

Denims at this weight are a great introduction to the world of well-made selvedge—so good, in fact, that a lot of people who experiment with denims in this weight are so satisfied that they never try anything else. If you want sharp whiskers, honeycombs, and stacks, but you don't want the discomfort that comes with heavyweight denim, this will be your sweet spot.
**A 17oz pair of Strike Gold 3109 faded by Florent Lefeuvre in last year's Indigo Invitational**
If you wear a pair of middleweights every day, you should be through the break-in period within a month or so. You'll see faint lines appearing behind the knees and across the top block. These will become more and more pronounced with each passing week. Keep an eye on the crotch for blowouts, which might become a problem after around 200 wears.
At this weight, you'll have to take more care with washing your denim. Lightweight denim can be thrown in the wash without much thought, but careless washing will mar the fades you're developing on your middleweight pairs. Hold off on that first wash until your jeans really need it. Wash them inside out on your washing machine's coldest setting, and make sure to turn off the spin cycle. Hang them to dry.
Heavyweights: 19-21oz

If you've been drawn to this category by either the incredible high-contrast fades that heavy denim can help you produce or its extreme durability, be aware that there are a few caveats.
The first is the comfort. If you're jumping from lightweight to heavyweight denim in a single step, the first week wearing heavyweight denim might catch you off guard. The backs of your hands will be raw from sliding your hands in and out of your pockets, and your thumbs will be sore from fastening the buttons.
Heavyweight denim demands patience. The break-in period will probably last for at least 4-6 weeks (perhaps longer if you're wearing them intermittently). And this is still only the beginning of the journey. Once they have become comfortable, you'll need to wear them day after day to develop the kind of high contrast fades that they can produce.

**A 19oz pair of Iron Heart 666 faded by Herman Rahman in last year's Indigo Invitational**
If you are prone to impatience, stick with the middleweights. If you can be patient, though, the rewards will make all the waiting more than worthwhile. After 8-10 months, you'll have a pair that looks and feels like nothing else you've ever worn before. Stick with them, and they'll just keep getting better and better. If you can put 500 wears into them (washing them rarely along the way), they'll be an absolute work of art.
Sizing Up for Comfort: When crossing into super-heavyweight territory, we recommend sizing up. When the denim is both heavy and tight, it is unlikely you'll make it to the other side of the break-in period.
Super Heavyweights: 22-25oz

This is not a category to leap into without first experimenting with other weights—not without a word of warning from us at least. At this weight, denim starts to feel more like armour than clothing. When it is crisp and raw, it fights you each time you bend your knees or sit down.
You will have to wait quite a while for the denim to become comfortable. Expect to measure the break-in period in months rather than weeks. Impatient faders might try to push this process along with frequent washing, but this will dramatically limit your ability to produce sharp contrasts. If you want the fades, you'll have to sweat for them.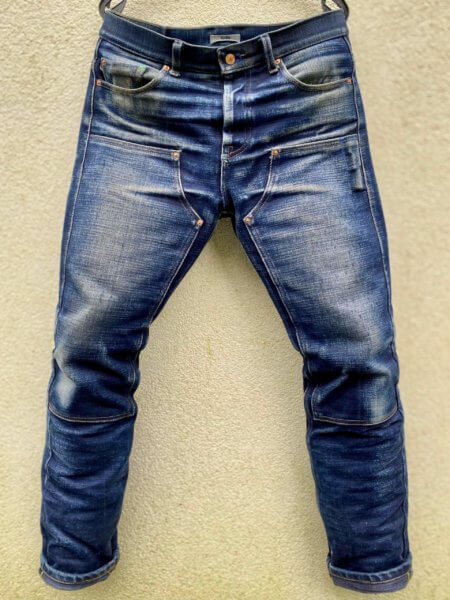 **Double-Fronted 25oz SOSOs worn by Frederick Vande Weygaerde in the Invitational**
At this weight, the fades are spectacular. Heavyweight denim produces bold fade patterns. If you're wondering why denimheads would subject themselves to the long break-in period, the faded examples should provide a definitive answer to your question.
Challenge Weight: 33oz
Our heaviest denim was something of a challenge we gave to ourselves. We wanted to produce the heaviest denim in the world, and, with the help of our manufacturing partners, we rose to the challenge.

We don't recommend this denim for newcomers to the selvedge scene. Some of those who make the attempt find that the denim is simply too much for them. If you have soft skin, this denim is heavy enough to cause bleeding behind the knees, so be warned.
The 33oz Breaker of Legs is for those who want to make a bold statement about their love of denim. It looks as heavy as it feels, and it definitely draws attention. Be prepared to answer questions about your heavy jeans (especially when you're passing through airport security).
We've worked hard to match heavyweight construction with heavyweight denim, so you can be sure that these will go the distance. It's a long road to bring the absolute best out of this pair, but your patience will be rewarded. If you can put the work in, these jeans will be like nothing else in your collection. Are you up for the challenge?
***
We're constantly updating our denim selection. Heavyweights and superheavyweights don't come around very often, and they're in high demand when they do. If you're keen to try something in a heavier weight but don't see a denim that's a good match for your needs or preferences, drop us a line here. We'll let you know when we're expecting something in the weight you're looking for.
Be No.1 and receive the latest denim news, fabric releases and promotions!